BREXIT NEWS FOR MONDAY 3rd DECEMBER 2018.
Today is all about the Attorney-General´s Legal Advice on the Brexit Deal to the Prime Minister. Take a read of this developing story. AG will be speaking in the House of Commons today at 4.30pm.
This is HMGovernment abridged legal advice just published on the Withdrawal Agreement and backstop https://assets.publishing.service.gov.uk/government/uploads/system/uploads/attachment_data/file/761153/EU_Exit_-_Legal_position_on_the_Withdrawal_Agreement.pdf …
The key paragraph. The Irish backstop "will continue to apply unless and until it is superseded, in whole or in part, by a  subsequent agreement establishing alternative arrangements". ie, it is indefinite.

And on the backstop's review mechanism: a breach of negotiating in good faith is only provable if there is "a clear basis"; ie not just one side's say so. This is quite a high bar.

Here is a stinker for Leavers hoping to just get Brexit over the line and then renegotiate the lot of it. Any PM who rips up the deal will be breaking the law.

Britain's rule taker status during the transition period is also writ large in the advice. For its duration (up to 3 years and 9 months), we are locked out of any decision making on EU rules, and may even be forbidden from seeing security info.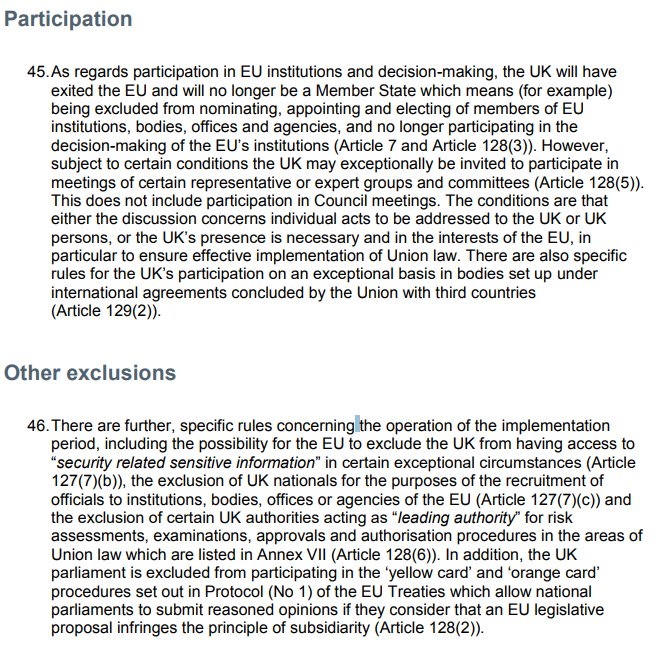 In summary: the 43 page legal advice summary is expansive, blunt and at times extremely painful reading for MPs. The only plus for HMG is that may negate some of the calls to see the whole thing.
Doesn't seem like so long ago that No10 expectations management machine was talking about 100-vote loss (so a 50-vote loss would sound like a success). Then a 200 vote loss. Now this
Close colleagues of the PM say that on "current numbers" she loses the meaningful vote by "nearly 400". And yet @theresa_may acts and speaks as they she is not about to lose the most important battle of her life. Which begs the question what does she know that the rest of us..
Following his appearance on Marr yesterday, Tory Brexiteers are whatsapping Michael Gove to tell him he "very obviously" doesn't believe in the deal and "you owe yourself" to stop it.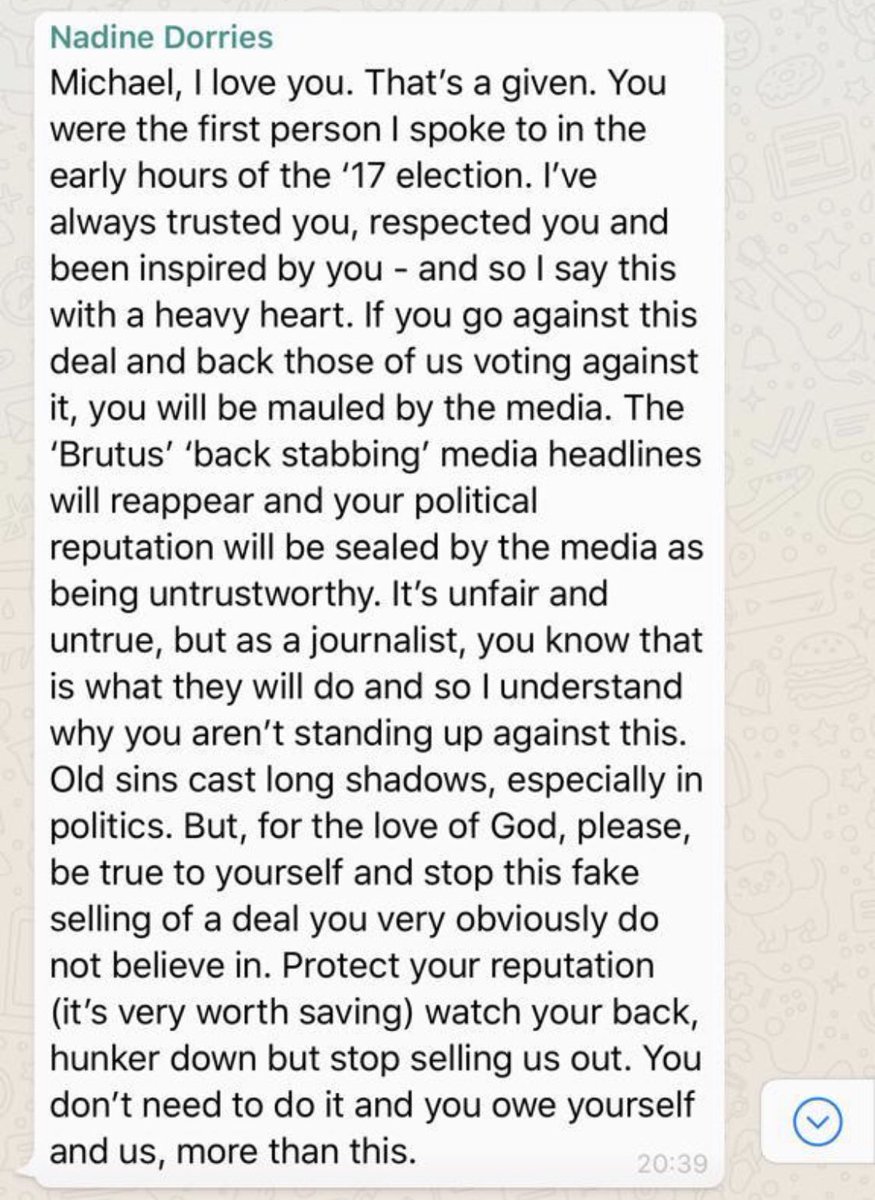 Labour source: This document falls far short of what Parliament demanded. It is not the full legal advice. Ministers should be aware that they are treading on very thin ice indeed.
Olly Robbins confirms that current security co-operation between Britain and the EU will not automatically continue under the customs backstop. He says it is 'uncomfortable' for both UK and EU.
At the Dexeu select committee Stephen Barclay argues the 'best endeavours' clause of backstop – commitment to act in good faith – will ultimately enable UK to pull out if EU is obstructive. But legal advice – and Olly Robbins – are clear that the clause is not legally binding
Here's what they're not telling you. Govt's legal 'position paper' states that 'good faith' clause enabling UK to leave backstop is 'common feature of international agreements' & recognised by ECJ. BUT secret legal advice says EU is under *no legal obligation* to follow
What if we extend the transition instead of going into the backstop? The Govt's legal position paper says there would be a price to pay. 'The Joint Committee would decide on an appropriate level of financial contribution'
Two HUGE gaps at the heart of the Government's legal advice:
1) Who sits on arbitration panel that determines whether UK can leave backstop? Will the ECJ have a role?
2) How will breach of 'good faith' by either EU or UK be defined? And what evidence will be needed to prove it?
So here's a thing: The Government's 'legal position paper' – which carefully elides the most damning advice – is FIFTY TWO pages long. I'm told Geoffrey Cox's actual legal advice – including warning UK could be trapped in Customs Union indefinitely – is just SIX pages long.
All eyes on Dom Raab as Geoffrey Cox stands up to take questions on his legal advice this evening. His intervention likely to be well worth watching…
NEW: Labour source tells me the Govt's document on the legal advice "falls short of what parliament decided" Ministers are treading on "very thin ice". Told that Cox must either indicate a u-turn in the Commons or face contempt motion as early as tonight.