Saturday 17th January 2018.
Weekend off for most people but not for PM May who is still trying to sell her Brexit Deal. Poll out today shows Conservative support slipping sharply and now behind Labour.
Important analysis of the deal on The Spectator. Interesting that the hashtag "fakebrexitdeal" has appeared today. The 5 Brexiter Ministers still appear to want to change the terms of the backsstop from within Government, Suspected they might resign once rebuffed by PM May, as she did Michael Gove who wanted to renegotiate…..Continued discussion abour leadership vote of no confidence.
Over in Europe, discussion about amending the paperwork over UK Fishing Area. Many countries still unwilling to allow UK to regain its fishing areas. Perhaps trouble in store for PM May from the Scottish Conservatives over this.
'A senior Downing Street official offered to let Raab out of cabinet early so he could fly via helicopter across the Channel, promising him a movie-style entrance to the Barnier photo opportunity. This was rebuffed.' Great piece on all this week's madness.
What @andrealeadsom wants from @theresa_may – namely greater precision on the conditions that would have to be met for the UK to exit the backstop – does not seem unreasonable in and of itself. And for her, and probably @PennyMordaunt, and possibly Chris Grayling, @LiamFox and @michaelgove this is potentially a resigning issue (yes that threat has not gone away).
They want to raise this with the PM either in a private meeting or at Tuesday's cabinet. Of course it is clear why this matters to Brexiters. Great specificity on the conditions that.would see the UK emerge from the backstop would provide greater confidence that the mutual UK/EU decision to terminate the backstop would and could actually happen one day.
The Catch 22, the big problem for May, is that if those conditions could be specified there would be no need for the backstop in the first place – because there would be confidence the border between Northern Ireland and the Republic of Ireland could be kept open without a backstop at all.
So I fear the initiative of the Famous Five Cabinet Brexiters, with Leadsom as.the leader George, is doomed to fail. And the PM may therefore have to brace herself for more Cabinet resignations in coming days.
No10 has written 40 rebuttals to Mr Steerpike's 40 horrors of the Brexit deal. Delighted to publish them here.
Brexit: How the Deal was Done via @RTENewsNow
Bleak numbers for Tories from @OpiniumResearch -4 pt lead gone, now 3 points behind Lab -Support for Conservatives among Leavers (core group) down 10 pts -Lowest level of public confidence in Conservative handling of negotiations (26%) since Chequers fallout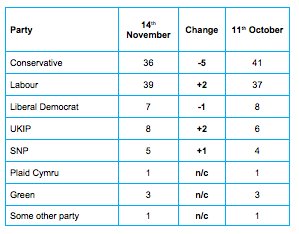 Within the margin of error …. (changes since January) Remain: 51% (-4) Leave: 49% (+4) ComRes Nov 15 Sample: 1,752
Prime Minister Corbyn not only plausible but likely..
This is what @theresa_may has brought our party to. This against a Trotskyist, IRA supporting terrorist sympathiser who loves every enemy of the UK and hates every friend.
LAB: 39% (+2) CON: 36% (-5) UKIP: 8% (+2) LDEM: 7% (-1) GRN: 3% (-) @OpiniumReseach 14 No
If Irish backstop prevents a deal, but U.K. pays the #brexit bill & guarantees citizens' rights is there a "managed" no deal? And what might that look like? My latest with ⁦@Annaisaac⁩ – inputs from ⁦@CER_Grant⁩
Actual state-of-play on #Brexit in Brussels. On edge, no gloating, also no renegotiating at least until vote in UK Parliament. By @POLITICOEurope's top-notch team: @jacopobarigazzi @maiadelabaume @liliebayer